March 9/10/11 - Fund Raising Appeal Launch Weekend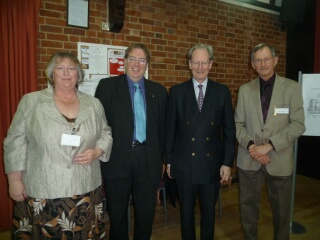 The Launch Weekend kicked off on Friday March 9th with a well attended evening reception hosted by Lord Phillimore, Patron of the Appeal, and with special guest John Howell MP. This was followed by public open days on Saturday and Sunday when many villagers and vistors took the opportunity to learn about the history of the hall, to review the detailed plans and to record their, overwhelmingly supportive, comments on the modernisation proposals.
Pictured right are Rachel Lloyd, Chair of the Management Committee, Lord Phillimore, John Howell and Robert Partridge, one of the Hall Trustees.
The display panels, containing pictures of the Mardon family (the original benefactors), extracts from historic news articles and developments of the hall up to the present day, can be viewed here (opens in a new window). Please note this is a very large file and may take a couple of minutes to download.
For pictures of the weekend please visit the Picture gallery.Comment on the proposed Modernisation